Hubei Minzu University was approved by The Ministry of Education in 1998. The University is actually a result of the merger of the former Hubei Institute for Nationalities and the former Enshi Medical Institute. As the key public university of provincial level with its focus on undergraduate education, it has been jointly funded and constructed by Hubei Provincial Government and The State Ethnic Affairs Commission ever since 2008.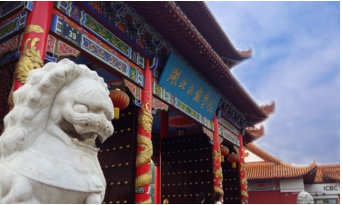 (The Main Gate of HMU)
Hubei Minzu University is located in Enshi City, capital of Enshi Tujia and Miao Autonomous Prefecture in southwest Hubei Province. It is convenient in transportation connecting Yichang in the east, Hunan in the south and Chongqing in the west. Expressways and railways run across the entire territory, and daily flights to and from Wuhan, Beijing and Guangzhou make intercourse with different parts of the country far easier than before. The University with its favorable environment and beautiful scenery is a wonderful place for learning and doing research.
Hubei Minzu University gathers many prominent scholars and professors. There are about 1,000 full-time teachers, of whom 780 have PhD degree and master degree, 500 have senior academic titles and 120 are professors, and about 200 part-time teachers. The campus covers an area of around 1,700 mu, with a total construction area of 625,900 square meters. The library of the University houses over 1,800,000 volumes of paper books, and it has built a modern digital library with the number of e-books over 3,200,000. The total value of facilities for teaching and academic research reaches RMB 2.24 billion Yuan. The University has over 17,000 full-time students.
Hubei Minzu University consists of 18 schools. They are schools of Literature and Communication, Science, Information Engineering, Chemistry and Environmental Engineering, Medical Science, Economics and Management, Biological Science and Technology, Foreign Languages, Physical Culture, Art, Law, Marxism Study, Forestry and Horticulture, Traditional Chinese Medicine, International Education, Clinical Medicine, Ethnological Study, Education, and an affiliated class-A hospital.
Hubei Minzu University has currently 60 programs enrolling undergraduate students, covering ten disciplines, namely law, pedagogy, literature, science, engineering, agriculture, medical science, management, economics and art. Besides, the University offers 5 primary master programs (including Ethnology, Mathematics, Chemical Engineering and Technology, Forestry, and Traditional Chinese Medicine), 24 secondary master programs including literary theory, and 4 professional master programs (Engineering, Clinical Medicine and Journalism and Communications). In addition, the University jointly offers the doctor programs with Minzu University of China, Beijing Forestry University and Hubei University of Chinese Medicine in the discipline of Ethnology, Law, Forestry and Traditional Chinese Medicine.
In 2002, the University began to enroll international students. Burgeoning are international exchanges and cooperation of Hubei University for Nationalities in recent years. It has established cooperative relationship with more than 20 universities in the U.S.A., UK, Australia, Japan, South Korea etc. and simultaneously exchanged scholars and students with them.